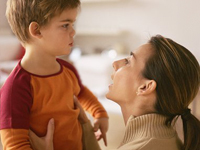 (GETTY IMAGES)
A flurry of news reports and
articles
on the growing number of children diagnosed with
bipolar disorder
and other mental health illnesses has many parents in a panic.
When are mood swings, temper tantrums, and aggressive behavior the sign of pediatric bipolar disorder, and when are they just normal development? When is the desire to spend time alone a sign of shyness, and when is it a hallmark of early onset
depression
? How can a parent find the right expert to help him decide whether to treat his child with
antidepressants
that have been designed for and tested on adults, not children?
"Bipolar Disorder Controlled Me"

The difficulty in answering questions like these, according to experts at the
National Alliance on Mental Illness
(NAMI), is exacerbated by the inability of many children to describe or express their emotions, and the paucity of experts in pediatric psychiatry. Below, we've adapted NAMI's
10 steps
to help parents and their health-care providers make an accurate diagnosis of mental illness.
1. Record keeping
Organize and keep accurate records related to your childs emotional, behavioral, social, and developmental history. The records should include observations of the child at home, in school, and in the community. They should be shared with the childs treating provider to help in making a diagnosis. The records should include the following information:
Primary symptoms, behaviors, and emotions of concern
A list of the childs strengths
A history of when the child first talked, walked, and developed social skills
A complete family history of mental illness and substance use disorders (many mental illnesses run in families)
Challenges the child is facing with school, social-skill progression, developmental milestones, behaviors, and emotions
The times of day or year when the child is most challenged
Interventions and supports—including therapy, medication, residential or community services, hospitalization, and more—that have been used to help the child, and their effectiveness
Settings that are most difficult for the child (e.g., school, home, social situations)
Any major changes or stresses in the childs life (e.g., divorce, death of a love one)
Factors that may act as triggers or worsen the childs behaviors or emotions
Significant mood instability or disruptive sleep patterns
Families know their child best and their expertise is essential in securing an accurate diagnosis for their child.