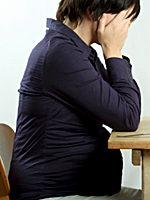 Getty Images
As recently as 10 years ago, doctors advised women with
bipolar disorder
not to have children. While that thinking is now dated, bipolar women often face tough decisions about how to handle their medication during pregnancy.
Most drugs prescribed for bipolar disorder carry some risk of birth defects, yet women who discontinue medication risk relapsing into a manic or depressive episode; during the postpartum phase the relapse rate is as high as 50% to 70%, by some estimates. Even more alarming, bipolar women are 100 times more likely than other women to experience postpartum psychosis, a severe mood disorder that, at its very worst, can result in infanticide.
Sally, 37, started taking lithium after a severe manic episode seven years ago. She eventually switched to other drugs, but in 2007 she stopped her medication altogether when she learned that she was pregnant.
The pregnancy was uneventful. Her daughter, Stella, did arrive six weeks early, but after 21 days in the hospital Stella was finally at home and thriving.
Bipolar Disorder Is Different for Women

Hormones, gender roles, and misdiagnosis all play a role
Read more
Sally, meanwhile, was falling apart. "I was extremely hyperactive," she says. "I was going a million miles an hour." Everyone had told her, "When the baby sleeps, you sleep"—but she couldn't rest. While Stella napped, Sally would clean her Jackson, N.J., home yet again, wiping down doorknobs and light switches. She baked blueberry cobbler at 6 a.m. and pulled weeds into the night.
Though she had restarted her meds the day she gave birth to Stella, after a string of sleepless nights several months later Sally finally realized that lithium was the only thing that would bring her back to her senses. And it did.
Yet Sally continued to have doubts that she was strong enough to be a mother. These are doubts that many women with bipolar disorder share.
Say no to drugs?
Two years ago, Meredith, 26, of Dix Hills, N.Y., was diagnosed with bipolar disorder and began taking lithium. Now she is planning her wedding and, each night, takes a cocktail of
mood stabilizers
,
antidepressants
, and antipsychotics: lithium, Abilify, propranolol (Inderal), and escitalopram (Lexapro). "I was grateful for the lithium at first," she says. "But then I was like, 'There go all my options for having kids.'"
When it was first approved by the FDA in 1970, lithium was believed to cause heart-valve defects in an extremely high percentage of infants born to mothers who were on the drug (about 1 in 50). Decades later, new research has downgraded the risk, to about 1 in 1,000 to 2,000.
Bipolar medications aren't considered as risky during pregnancy as they once were, but they aren't exactly harmless either. According to the FDA's letter-grade system for
drug safety during pregnancy
, most psychotropic drugs pose a potential risk to the fetus. Studies have found that the anticonvulsants valproic acid (Depakote) and carbemazepine (Tegretol) can cause birth defects ranging from physical deformities to spina bifida, for instance, while some research suggests that another anticonvulsant, lamotrigine, may carry an increased risk of cleft palate.