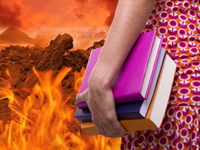 (CLIMATEPROGRESS.ORG/FOTOLIA/HEALTH)
If someone had told me when I was in my teens that one day I'd be a spokesperson for a mental health group, I wouldn't have believed them. Chances are, I wouldn't have understood them either. When I was 18, I was drowsy on antipsychotics and hospitalized for my first manic attack. But a lot has changed since then, and over the last 36 years I've learned how to manage my health. And, as a member of
NAMI
(National Alliance on Mental Illness), I help other people understand mental illness for themselves and their loved ones.
Generosity Mania

More about bipolar disorder
Mental illness made college hell
Today I talk openly about my bipolar disorder, but for a long time I didn't tell anyone about it. First of all, I didn't really understand the illness, let alone want to share this big secret with people. Though, at times, it was hard to conceal. Whenever I was stressed or overtired or feeling enormous pressure, I was at risk of going through another manic episode. That's what happened when I started college at a reputable liberal arts women's school—which will remain nameless.
The unfamiliar surroundings, the irregular class schedule, and the unlimited opportunity offered me too many choices. And it resulted in unmanageable stress. I couldn't sleep, I would forget to eat, and I would talk incredibly fast. I even thought I had ESP—when a song would come on the radio, I thought, "Hey, I predicted that song." I sensed something was wrong, but I didn't know what it was. So I visited the college's infirmary.
During the first few visits, the college doctor focused on my
insomnia
. He gave me medication to sleep and sent me home. But when the sleep medication didn't work, and I was getting more hyper and my energy was peaking beyond control, the doctor sent me to a hospital. To my surprise, they had me stay in the hospital for six weeks. Imagine: I had just started college, a bright-eyed, ambitious student and then, three weeks later, I was a patient in a mental ward of a hospital. It was hard to understand, even harder to accept.