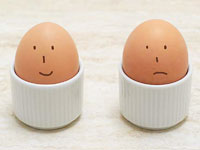 (HUBER-STARKE/RADIUS/MASTERFILE)
Bipolar disorder, sometimes called manic depression, affects nearly six million American adults, or about 2.5% of the adult population, according to the
National Institute of Mental Health
. Some patients who eventually get diagnosed spend years, even decades, cycling through institutions and switching therapists before they get the correct treatment.
Mary, a mental health advocate who lives in western Massachusetts, is one of these people. She had episodes of mild depression starting when she was in her late teens.
antidepressants
, the medications kicked her into a slightly manic state during which she was often pretty effective in her many roles at work, home, and community. "I survived that way for 20 years," she says.
Then in 2002, her world crumbled when her son, who had been diagnosed with bipolar disease at age 7, spent more than four months in a hospital while awaiting transfer to a residential mental health facility. Mary became
suicidally depressed
. This time her doctors reached the conclusion that she, too, had bipolar disorder.