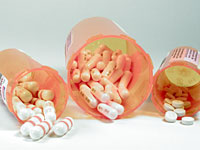 (ISTOCKPHOTO)
Drugs for
bipolar disorder
don't cure the condition, psychiatrists say. "They only suppress the symptoms," says Michael Thase, MD, professor of psychiatry at the University of Pennsylvania. "Because of this, people who take them are temporarily at increased risk for relapse when they stop the medications, particularly if they stop them abruptly."
John Markowitz, MD, a psychiatrist at the New York State Psychiatric Institute and clinical professor of psychiatry at Weill Medical College of Cornell University in New York City, adds: "One episode of mania, you're on a
mood stabilizer
for life. Mania with severe depression can have catastrophic consequences."
Must Flatten Mood

More about bipolar disorder
Drugs are no easy solution
But the drugs themselves are no easy solution for people suffering from bipolar disorder, says Laurel Lemke, 54, of Lakewood, Wash., who says she experienced "cognitive dulling" on lithium, so much so that switched to another medication when she wanted to try to go to graduate school. "You have to weigh the downside of the drugs against having a life in an institution," she says.
Once you're taking a mood stabilizer, you may not need an
antidepressant
, which can trigger manic phases.
Results of the multicenter
Systemic Treatment Enhancement Program for Bipolar Disorder
(STEP-BD) study support the notion that antidepressants like Prozac may not be appropriate for bipolar patients.
In this rigorously controlled study, people with bipolar disorder were treated for up to 26 weeks with either a mood stabilizer paired with an antidepressant or a mood stabilizer plus a placebo. Of the 179 subjects, 42 (or 23.5%) who were taking a mood stabilizer plus an antidepressant had a durable recovery. Of the 187 subjects taking a mood stabilizer plus a placebo that looked like the antidepressant, 51 (or 27.3%) had a durable recovery.