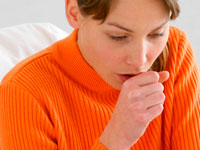 (PHOTOTAKEUSA.COM)
You've been coughing for weeks. How do you know if it's just a hard-to-shake cold or something more serious? A chronic cough, defined as lasting more than eight weeks, is not uncommon. Up to 40% of nonsmokers in the United States and Europe have reported a chronic cough at some point, and coughing is one of the five most common reasons for a doctor's visit.
Only a doctor can tell for sure what's behind your endless hacking. However, in a 2006 study of women with an average age of 48 who had a cough lasting for six months, 39% were found to have asthma, 9% had chronic upper airway cough syndrome (commonly known as postnasal drip), and 9% had gastroesophageal reflux disease (GERD).
In addition, another 11% had chronic obstructive pulmonary disease (COPD), a serious, progressive disease that includes both emphysema and bronchitis. While not all people who develop COPD are smokers, people who smoke are at higher risk. Overall, 24 million Americans—about 1 in 12 people—have COPD, although half don't know they have the disease.
Read more about COPD and some common (and relatively uncommon) culprits in chronic cough.
1. Asthma and allergies
Asthma is a chronic lung disease in which the airways in the lungs are prone to inflammation and swelling. Along with chest tightness, shortness of breath, and wheezing, coughing is a characteristic symptom of asthma, one which tends to intensify at night or in the early morning. When the symptoms of asthma flare up suddenly, its known as an asthma attack.
Although it can begin at any age, asthma usually develops in childhood. Asthma triggers are different for everyone, and they can include exercise, colds, cigarette smoke and other airborne irritants, and certain foods. Asthmatics usually also have allergies.
Even in people without asthma, inhaling pollen, dust, pet dander, and other airborne irritants can trigger allergic rhinitis, an allergic reaction that can cause coughing, along with symptoms such as stuffy nose and sneezing.
You may be able to determine whether your cough is caused by allergies by keeping track of whether it comes and goes in certain situations. If your coughing magically stops when you step into an air-conditioned room on a dry, pollen-heavy day, or if gets worse every time you pet Mittens, you probably have allergies. If youre not sure whats triggering your allergic cough, your doctor can give you a skin test or blood test to pinpoint the allergy.