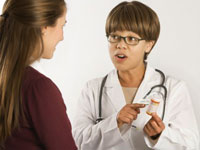 (123RF)
When adults are diagnosed with
attention deficit and hyperactivity disorder (ADHD)
, they often respond with a feeling of relief rather than dismay. Many have struggled with symptoms since childhood, and receiving a diagnosis tends to place their life experiences in perspective:
So thats why I had such a hard time concentrating in school.
And, even better, now they can get treatment.
Luckily for these adults,
recognizing ADHD and getting an official diagnosis
may be the hardest part. Unlike treatments for some other neurobehavioral disorders, such as autism, the treatments for ADHD are usually manageable and effective, and they may begin to work right away.
"Adult ADHD is one of the most responsive disorders to treatment, and patients are generally very receptive to the program," says David W. Goodman, MD, director of the Adult Attention Deficit Disorder Center of Maryland and assistant professor of psychiatry and behavioral sciences at Johns Hopkins University School of Medicine.
"ADHD sufferers may have very low self-esteem because the environment has always been critical of their unsatisfactory performance," he adds. "In only six to nine months of treatment, many notice that their self-image has improved tremendously."