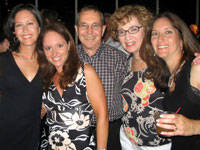 Will I get breast cancer?
My mother had breast cancer about 10 years ago, and my sister Beth got diagnosed in 2004. She tested positive for the BRCA gene mutation, so she ended up getting a
double mastectomy
.
Im one of three girls, so Beths test results gave me and my other sister, Carolyn, a 50% chance of having the gene mutation.
At first I didnt do anything with that information. I felt like I was too young to worry at just 32. Also, why would I get tested? I would never get surgery, so what was the point of knowing?
Carolyn got tested right away, and she was negative.
My parents both got tested too
, and it turned out that even though my mother had had breast cancer, my father was the breast cancer gene carrier.
Eventually I started getting really scared of
chemotherapy
—more than cancer. I started hearing how damaging chemo could be, that it could cause
infertility
.
I became an emotional wreck and spent a couple of months deciding if I wanted to get tested—and face the possibility of a double mastectomy.
It was a catch–22: If Im positive, how am I going to live with this information? But if I dont find out Im positive, Im still living in fear.