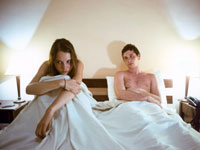 (GETTY IMAGES)
Even if youre in a happy relationship,
psoriasis
can be a sex-life killer. For most of us, sex drive ebbs and flows, but a psoriasis flare-up can dampen your desire further by ruining your self-confidence—and by making sex painful. Here's how to push past the roadblocks psoriasis throws up.
The first roadblock: Feeling unattractive
"Sometimes youre in an intimate situation, and it's going through your mind that you must look horrible," says Anne Krolikowski, 35, of Milwaukee, Wis., who was diagnosed with psoriasis when she was a child.
In those moments, even if your partner understands your condition, thoughts like that can still intrude. "Being intimate can be hard," explains
Victoria Gardner Nye
, 35, from Cambridge, Mass., who has had psoriasis since she was a teenager. "Especially if theyre kissing you near your psoriasis. I know that my husband doesnt care. But I worry hes going to get a flake in his mouth."
Five steps to overcome it
Fighting the anxiety requires taking control, says Allan F. Chino, PhD, a psychologist in private practice with Functional Pain Solutions in Tigard, Ore., and an assistant clinical professor of medicine at Oregon Health & Science University in Portland. "If the reason for not being into sex is because youre self-conscious about your condition, the condition has power over you," he says. "Its about taking power back. If theyre not feeling attractive and their partner is saying 'I disagree,' they have an opportunity to turn their feelings around."
1. Talk about it up front
Chino recommends telling your partner about the disease or flare-up before you get intimate. "Most people fear that the disease will take someone by surprise. By putting it out there, youre taking control. You might say, 'I'm having an outbreak' with great confidence, or if you have the courage, show it to someone. The anxiety and stress around the disease will ease up."