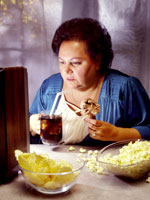 (ISTOCKPHOTO)
You stayed up too late last night, so you grab a latte on your way into work. When you feel yourself slump at 3 p.m., you raid the vending machine. You're so tired at the end of the day, you can barely get home for dinner, let alone make a trip to the gym.
Sound familiar? Many
sleep-deprived people
drag themselves through the day, skipping physical activity and relying on sugary pick-me-ups. But these habits don't fight off sleepiness for long. And even worse? Over time, they can contribute to weight gain or, at the very least, sabotage your efforts to lose those last few pounds.
Lack of sleep changes your appetite
"We have very substantial research that shows if you shorten or disturb sleep, you increase your appetite for high-calorie dense foods," says Charles Samuels, MD, medical director of the Centre for Sleep and Human Performance in Calgary, Alberta. "On a simplistic level, your appetite changes."
Two hormones in your body play an important role in controlling appetite and satiety. Ghrelin stimulates appetite, causing you to eat; leptin suppresses appetite—so you'll stop eating—and stimulates energy expenditure. In a properly functioning brain, the two hormones are released on and off to regulate normal feelings of hunger. But
research has shown
that sleep deprivation can alter ghrelin and leptin levels.
Apnea and Obesity

"When sleep is restricted to four hours a night, ghrelin levels go up and leptin levels go down," says National Sleep Foundation spokesperson William Orr, PhD, president and CEO of the Lynn Health Science Institute in Oklahoma City. "So you have a greater amount of appetite and a greater amount of intake."
Belly fat raises your diabetes risk
If you're chronically sleep-deprived and consume more high-calorie foods, it's likely those calories will be deposited around your middle, forming
fat deposits
that are especially dangerous for raising your risk of type II diabetes. "It's known as visceral fat deposition," says Dr. Samuels. "Sleep-deprived individuals' ability to respond to a glucose load and release insulin is altered."
In one oft-cited
study
, he adds, healthy people whose sleep was restricted for six nights showed impaired glucose tolerance, which is a
prediabetic
condition. When they then got enough sleep, about nine hours a night over the next six nights, their glucose responses returned to normal.
There's not enough evidence to claim that lack of sleep could cause diabetes, but research has found
a connection between the two
. At the very least, getting enough sleep can help regulate energy levels—eliminating the need to rely on sugar or carbs for a boost—whether you have diabetes or not.