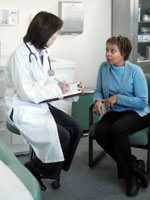 (GETTY IMAGES)
Ed Dewke learned he had a skin disease while sitting in a barber's chair.
When Dewke asked his barber about a particularly awful case of dandruff, the barber told him, "Oh, it looks like
psoriasis
to me." And he was right.
The following year, after another very noticeable flare-up—a lesion at the tip of his nose—Dewke, 57, a telecommunications consultant from Midway, Ky., finally went to a doctor for a proper diagnosis.
Psoriasis, a painful skin condition that affects some seven million Americans, can be diagnosed by a clinical exam and a few questions from your primary care doctor or a dermatologist. But since the condition, which can cause disfiguring skin lesions (sometimes known as plaques), can be very embarrassing, many people don't seek out the care they need. This is unfortunate, because
treatments
for psoriasis can be quite effective.
To get the best care and the right treatment, patients should find a primary care physician or dermatologist who has experience treating the disease and is up-to-date on the latest treatments.