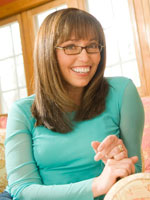 Soon after I was diagnosed with ductal carcinoma in situ in February 2006, my best friend, a triathlete, asked me if I wanted to run the NYC Half-Marathon with her at the end of August. I was confused. Couldn't she see how hazy and frightening the concept of the future was for me? Or that I wondered why she'd still want to hang out with me in my damaged state? I didn't answer her—I couldnt.
But I let her drag me out of the house and I plodded behind her. It was better than obsessively googling
breast cancer health sites
and calculating my rate of
recurrence
. And I knew that running was good for me. But racing? I wasn't a racer.
"My mother is an athlete"
In fact, I didn't commit to the half marathon until the day my then 9-year-old son burst into the kitchen, fighting tears because one of his friends said I was like another friend's mother who'd died of breast cancer a few years before. "But I told him that isn't true," he said. "My mother is an athlete. She can run up all the hills in the neighborhood."
I realized I had no choice. I had to run the race. I had to be the mother who could run up all the hills in the neighborhood, to prove that I was still strong, that I would survive.
The month before the race, we were running nearly every day, up to 30 miles a week with long runs every Saturday. There were days I didn't want to run—days I would have rather curled up in a chair and wept for my life before the
diagnosis
. But putting on my shoes and stepping one foot in front of the other forced me out of my ruminating head and planted me in my body. And as I ran, I felt stronger and lighter and freer. Slowly, I started to trust the body that had betrayed me. And on those days when the long runs felt like too much and I wanted to stop, I'd chant to myself:
I am strong. I am healthy. I am healed
.