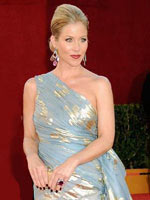 (THEINSIDER.COM)
Sunday night, actress
Christina Applegate
stood in front of a crowd of her peers and millions of viewers at the 60th annual Emmy Awards. And I couldn't help wondering, how many of them were looking at her chest?
A little over a month ago, the 36-year-old star of
Samantha Who?
had a prophylactic double mastectomy after finding a tumor in one breast and testing positive for the BRCA-1 breast cancer gene mutation, which elevated her risk for breast and ovarian cancer.
After her surgery to remove both breasts, Applegate told
Good Morning America
that she would undergo reconstruction over the next several months. Whether she's started already, we don't really know. She walked the red carpet in an ice-blue, one-strapped asymmetrical gown, looking less voluptuous than usual, but as gorgeous and as confident as ever—and a stunning advertisement for life after
mastectomy
.
I Look OK

The reconstruction revolution
Experts
speculate that Applegate will have what Roberta Gartside, MD, a Virginia plastic surgeon, said last week is the most popular
breast cancer reconstruction
option: an implant expander and an implant. After all breast tissue is removed, a temporary expander is put into each breast to stretch the skin so that there is enough of it to cover the implants, which are inserted in a future surgery. A few months later, the areola and nipple can be created on each breast.
Breast reconstruction was the hot topic at a Web seminar sponsored by the American Society of Plastic Surgeons last week, attended by Dr. Gartside and other experts. The surgery has come a long way, they said, with advances such as improved silicone implants, fat injections that may be able to correct deformities from lumpectomies, and TRAM flap surgery that uses the woman's own tissue and fat.