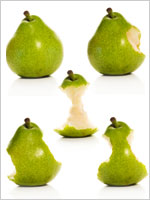 (ISTOCKPHOTO)
IF YOU'RE IN YOUR 40s...
Women in their 40s need to be more vigilant than ever about their
breast screening
as cancer rates start to increase at this time of life: The probability of a woman in her 40s developing the disease is 1 in 70. Implementing healthy habits such as these becomes even more important.
1. Schedule an annual mammogram and clinical exam, and check your own breasts.
The American Cancer Society recommends that women age 40 and older get a
mammogram
and a
clinical breast exam
every year. Also, stay
familiar with your own breasts
: If you notice any changes, tell your doctor about them immediately. Chances are good that any changes you notice, such as fibrocystic breast changes, are harmless, but it's still essential to have anything new or unusual checked out.
Better Tests, Kinder Care

Find the cancer early and treatment won't be so harsh
Watch video
2. Drink less alcohol.
"This means no more than one drink per day," says Anne McTiernan, MD, PhD, the director of the Prevention Center at the Fred Hutchinson Cancer Research Center in Seattle and coauthor of
Breast Fitness: An Optimal Exercise and Health Plan for Reducing Your Risk of Breast Cancer
. "Alcohol use increases your risk for breast cancer." Sadly, this doesnt mean you can "save up" a weeks worth of drinks for a big Saturday night on the town.
3. Eat a healthy diet.
Dr. McTiernan points out that while the relationship between diet and cancer is far from established, research suggests that a plant-based diet is associated with reduced risks for several cancers. The
National Cancer Institute
has for many years recommended that members of the general population eat at least five servings of fruits and vegetables per day, but Dr. McTiernan points out that most experts on cancer and diet recommend at least double that amount. Focus especially on eating a variety of brightly colored vegetables and fruits, as these contain the highest concentrations of vitamins.
Limit your intake of red meat to 4 ounces (about the size of a deck of cards) per day on average. Dr. McTiernan also recommends avoiding meats such as sausages and bologna. "The chemicals that are used to process the meats have been found to cause several kinds of cancers," she notes. Strive also to minimize your intake of high-calorie foods such as sugary drinks, juice, desserts, and candies, as well as refined breads and chips.