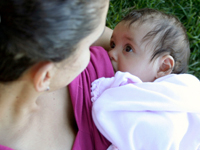 (ISTOCKPHOTO)
IF YOU'RE IN YOUR 30s...
Breast cancer rates for women in their 30s are still relatively low, but this is the time to get serious about monitoring your breasts for any changes. Heres some good breast-healthy behavior to cultivate during this decade.
1. Get a clinical breast exam every three years.
Also
monitor your own breasts
, and if you notice any changes, alert your doctor. If youre at high risk due to a close
family history
, your doctor may want you to start getting annual
mammograms
and
MRIs
as well.
2. Drink less alcohol.
"This means no more than one drink per day," says Anne McTiernan, MD, PhD, the director of the Prevention Center at the Fred Hutchinson Cancer Research Center in Seattle and coauthor of
Breast Fitness: An Optimal Exercise and Health Plan for Reducing Your Risk of Breast Cancer
. "Alcohol use increases your risk for breast cancer." Sadly, this doesnt mean you can "save up" a weeks worth of drinks for a big Saturday night on the town.
3. If you have children, breast-feed them for at least six months.
Some studies suggest that breast-feeding may slightly lower breast cancer risk, particularly if a woman continues breast feeding for one and a half to two years. A recent study by researchers at the Fred Hutchinson Cancer Research Center showed that breast feeding for six months or longer reduced the risk of low grade, slow-growing breast cancer by 20%, while the risk of
triple-negative disease
was cut by 50%.
25 Breast Cancer Myths and Misunderstandings

Does wearing antiperspirant increase your risk?
Read more
4. Avoid eating too much red and processed meat.
Limit your intake of red meat to 4 ounces (about the size of a deck of cards) per day on average, says Dr. McTiernan. She also recommends avoiding meats such as sausages and bologna. "The chemicals that are used to process the meats have been found to cause several kinds of cancers," she notes.
Strive also to eat 10 servings of fruits and vegetables a day and minimize your intake of high-calorie foods such as sugary drinks, juice, desserts, and candies, as well as refined breads and chips.
5. If youre at high risk of getting breast cancer, ask your doctor whether youre a good candidate for chemoprevention.
Tamoxifen
is approved for use in premenopausal women at high risk of developing breast cancer. "While the average woman should not take a drug to reduce the risk of breast cancer," explains Julie R. Gralow, MD, the director of breast medical oncology at the University of Washington and Fred Hutchinson Cancer Research Center in Seattle, "I would consider them for a woman whos had a biopsy that shows an increased risk for development of cancer."
6. Stay active.
Studies suggest that exercising three to four hours per week at moderate or vigorous levels can reduce your
risk of breast cancer
by about 20%. Whether it's brisk walking, biking, dancing, or jogging, work to keep your heart rate above its baseline level for at least 20 minutes at a time.