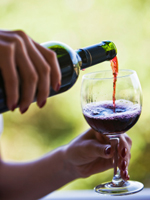 (ISTOCKPHOTO)
IF YOU'RE IN YOUR 20s...
Most twentysomethings are too busy finishing school, launching careers, and starting families to consider their
risk of breast cancer
. And it is relatively rare: The probability of a woman in her 20s developing the disease is only 1 in 1,837. But your 20s are the ideal time to start reducing your risk of getting the disease in the future. Heres what you can do.
1. Get a clinical breast exam.
These
tests
involve a physical exam by a medical professional and should be repeated at least every three years during your 20s.
2. Be breast aware.
Though some doctors now consider
breast self-exams
optional, its a smart idea to become familiar with your breasts so you notice any small changes, which you should then bring to the attention of your doctor ASAP.
Learn how to check your breasts and
read the stories
of three women who found their own breast cancer.
A Young Athlete With Breast Cancer Asks, Why Me?

The jury is still out on the effects of most lifestyle changes
Read more
3. Find out if youre at high risk.
If breast cancer runs in your
family
, talk to your doctor about whether you need stepped up screening.
"For a small subgroup of women with strong family histories of breast cancer, we recommend starting screening, including annual
mammograms
and
MRIs
, at age 25," says Julie R. Gralow, MD, the director of breast medical oncology at the University of Washington and Fred Hutchinson Cancer Research Center in Seattle.
You may also want to consider getting tested for the BRCA-1 and BRCA-2 gene mutations, which are linked to an increased risk of breast cancer.
4. Drink less alcohol.
"This means no more than one drink per day," says Anne McTiernan, MD, PhD, the director of the Prevention Center at the Fred Hutchinson Cancer Research Center in Seattle and coauthor with Dr. Gralow of
Breast Fitness: An Optimal Exercise and Health Plan for Reducing Your Risk of Breast Cancer
. "Alcohol use increases your risk for breast cancer." Sadly, this doesnt mean you can "save up" a weeks worth of drinks for a big Saturday night on the town.