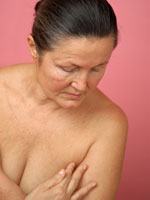 (ISTOCKPHOTO)
IF YOU'RE IN YOUR 60s OR OLDER...
The average age of a woman who receives a
breast cancer diagnosis
is 62, which is why women in their 60s need to be more vigilant than ever about breast health.
1. Continue getting annual mammograms and annual clinical exams
.
Screening becomes more important the older you get because your risk keeps going up, says Julie R. Gralow, MD, the director of breast medical oncology at the University of Washington and Fred Hutchinson Cancer Research Center in Seattle. "Fortunately, the older you get, the more fatty your breasts, and the easier it is to read mammograms," she notes. And while mammograms and clinical exams dont prevent cancer, they can prevent complications from treatment. "If you find it early, you can just get a lumpectomy and you may not need chemo."
2. Track any changes in your own breasts.
The older you are, the easier it is to do
breast self-exams
(BSEs), because breasts are less dense, says Dr. Gralow. Here are instructions on how to check your own breasts.
"I Had a Jujubee-Size Lump"

3. Drink less alcohol.
"This means no more than one drink per day," says Anne McTiernan, MD, PhD, the director of the Prevention Center at the Fred Hutchinson Cancer Research Center and coauthor, with Dr. Gralow, of
Breast Fitness: An Optimal Exercise and Health Plan for Reducing Your Risk of Breast Cancer
. "Alcohol use increases your risk for breast cancer." Sadly, this doesnt mean you can "save up" a weeks worth of drinks for a big Saturday night on the town.
A recent National Cancer Institute
study
of postmenopausal women found that those who had one to two small drinks a day were 32% more likely to develop the most common type of breast cancer (that with tumors that are positive for both estrogen and progesterone receptors). Women who had three or more drinks daily had as high as a 51% increased risk for hormone-sensitive breast cancer.
4. Exercise regularly.
Studies suggest that exercising three to four hours per week at moderate or vigorous levels can reduce your risk of breast cancer by about 20%. "Its never too late to start," says Dr. McTiernan. "We
found
in the
Womens Health Initiative
that there was a benefit to exercising in middle to late years even in women who were inactive when young."
And you dont have to be Dara Torres to reap the benefits: Activities like brisk walking, biking, dancing, or any exercise that raises your heart rate above its baseline level for at least 20 minutes and makes you sweat are beneficial.