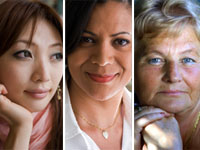 (ISTOCKPHOTO)
Breast cancer research offers more and more evidence that you can influence your own breast cancer future by picking up some good habits—and your age says a lot about which habits are key.
The following decade-by-decade guide suggests a few steps that every woman can take to protect her breast health, with extra emphasis on monitoring any changes so that problems can be caught early, when cancer is easier to treat.
Heres what you can do to cut your
breast cancer risk
if youre in your...
20s
30s
40s
50s
60s or older