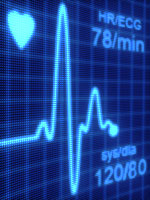 (ISTOCKPHOTO)
Whether they're trying to diagnose a problem or measure your progress, doctors have many ways to examine your heart.
Tests
may be as simple as a stethoscope exam to listen for an irregular heart rate, or as sophisticated as a three-dimensional computerized scan to get a clear image of your heart.
No matter how much technology is involved, no single test gives a complete picture of a patient's risk for
heart disease
. Symptoms, age, lifestyle, health history, and gender all reveal
important clues
about a patient's heart health.
Women may need different tests
And because women often experience heart disease differently from men, doctors are becoming more aware that diagnostic tests should be used differently for women and men, says C. Noel Bairey Merz, MD, medical director of the Women's Heart Center at Cedars-Sinai Medical Center in Los Angeles. Whether you're a man or a woman, don't hesitate to tell your doctor—and see a cardiologist if necessary—if you think you might be at risk for heart disease.
Stress Test Signaled Trouble

"The best possible thing is to find a doctor whom you trust and work with him [or her] to find out what you have," says Leslie Cho, MD, director of the Women's Cardiovascular Center at the Cleveland Clinic. "Just because you heard about the latest test on
Oprah
doesn't mean it's the right test for you."
Every test provides information to help answer the questions that matter most: What's the current state of your heart, and what do you need to do to get better?