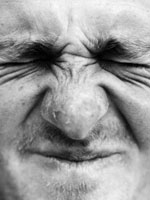 (GETTY IMAGES)
When I first developed signs of
Peyronies disease
, I didnt know what it was. It started with a strange indentation on the side of my penis that you could see only when it was erect. After 34 years, you kind of know what your body parts look like. I ignored it, but I knew I wasnt crazy or imagining things.
About six months later, I finally went to see a doctor because the shaft began to curve to the left where it used to be straight. The doctor could feel the scar tissue and so could I. It felt harder in certain places. Basically, the scar tissue builds up somehow and wont stretch with the rest of your penis. The doctor said the curving can stop or reverse itself in some cases, but in others, it worsens.
I went back again four months later because my situation took a turn for the worse, so to speak. My penis started bending downward and sex was becoming more uncomfortable. There was a pulling sensation, and the curve made sex a little more difficult. They say theres a point where sex becomes less painful, but I havent reached that point yet. Try bending your penis when its hard, or take your thumb and forefinger and stretch the skin until it hurts. Thats what it feels like when I get an erection or wake up in the middle of the night to urinate.
So, it was official. My doctor diagnosed me with Peyronies disease.