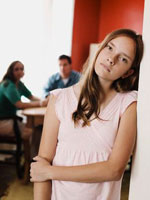 (CORBIS)
Depression
in children is very serious. At any given time, 5% of children age 9 to 17 meet the criteria for major depression. The
symptoms
of depression in children include feelings of sadness or hopelessness, loss of interest in activities, low energy and fatigue, irritability, poor performance in school, tantrums, change in appetite and sleep habits, and unfounded complaints of illness. More serious symptoms include self-harming thoughts and behavior. In many cases, the root of childhood depression can be found in the people with whom they are closest.
Depressed parents are—almost by definition—pessimistic and uninterested in life and social activities; they also have low energy. Many would prefer to spend their depressed days in bed. When mothers are depressed, they tend to be less organized, less responsive, more likely to express negative emotions, and less likely to be engaged with their children, says Kate Fogarty, assistant professor of youth development at the University of Florida. "And the longer that children grow up with depressed mothers, the more negative the effects are. Were talking even early childhood," she says.
I'm Not Alone: A Teen's Guide to Living with a Parent Who Has a Mental Illness
. Children often assume blame or responsibility for their parents when things go wrong, like in depression or divorce, she adds.