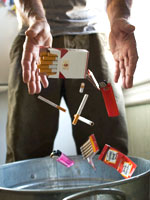 (PRISCILLA DE CASTRO)
In a way, going "cold turkey" is the most popular way to quit smoking. Most smokers try this strategy—stopping all at once
without the help of medication
, nicotine replacement methods, or any formal therapy—on their first attempt to give up cigarettes. But only about 3% to 10% are actually able to kick the habit without help.
"It is like tightrope-walking without a net," says Thomas Glynn, director of cancer science and trends at the American Cancer Society. "It is natural to want to try to quit independently. Most people think they can handle quitting on their own, but they typically underestimate how powerful
nicotine dependence
really is."
Why is it so hard to quit cold turkey?
Most smokers are both physically and psychologically addicted to cigarettes. As a result, when they give up smoking, their bodies experience withdrawal symptoms such as irritability, insomnia, and depression, which can last up to three months.
"I Quit My Pack-a-Day Habit Cold Turkey"

Peter worried that his social life would suffer
Read more
Medication
or
over-the-counter aids
like nicotine patches or gums help to mitigate these effects, and can therefore double or even triple your chance of success. But when you quit cold turkey, there is nothing in your body to serve as a buffer for withdrawal symptoms.
This is one reason why smokers who quit abruptly are more likely to fall off the wagon. "The withdrawal symptoms were unbearable," says Evan Rabinowitz, 28, from Brooklyn, N.Y., who has tried to quit cold turkey four times. "I became incredibly agitated and irritable every time I tried to quit."
It's important to remember, however, that every smoker is different—and some may find it more manageable to stop smoking without any help. Some think it is easier to deal with acute withdrawal than it is to put up with more mild symptoms for an extended period of time. Others say that weaning themselves off cigarettes with a nicotine patch or gum teases them and they prefer a more black-and-white approach.
Experts say chances of success depend on several factors, not just a person's willpower. The extent of your addiction, your daily habits and routines, and the amount of support you get from friends and family can all have a big effect. "It really depends on your personality," says Norman Edelman, MD, chief medical officer at the American Lung Association. "What works for one person doesnt necessarily work for someone else. If you are macho and think you can tough it out, then give it a try. If it doesnt work, try another approach."