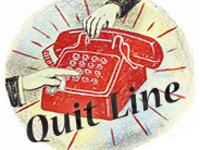 (VEER/HEALTH)
Kicking the smoking habit is such hard work that experts advise tackling it from several angles at once. Rather than relying solely on
medical therapies
or a nicotine patch or inhaler, the latest thinking is that your behavior may need to change as well. "This is a new finding," says Michael Fiore, MD, MPH, founder and director of the University of Wisconsin Center for Tobacco Research and Intervention. "Counseling is very effective by itself and medication is very effective by itself—but combining the two gives added benefits."
Here are some of the most effective nonmedical interventions to consider for your arsenal, whether you try them alone or in addition to other treatments.
Talk to someone
Counseling—whether its with an individual, a group, or by telephone—offers extra motivation to quit, guidance from experts, and emotional support for dealing with cravings and withdrawal symptoms. Its among the most powerful and proven techniques for kicking the habit. The U.S. Public Health Services 2008 guidelines for treating tobacco dependence, which analyzed more than 8,700 smoking-cessation studies, put counseling at the top of the heap among nonmedical interventions and found that the greater the intensity, the better the results. "Every way the panel looked at the research, they found that more is better," says Dr. Fiore, who also chaired the guideline panel. The following support techniques have the best track records:
Visualization Knocked Out Claire's Smoking Habit

She realized she was in control of her cravings
Read more
More articles to help you quit
1. Quit lines
These are phone lines staffed with trained smoking-cessation counselors who chat you through quitting. In 2004, the National Cancer Institute worked with state and federal agencies to establish a national hotline, 1-800-QUIT-NOW, which has been shown to increase abstinence rates. Adding quit-line counseling to medication has also been shown to boost the effectiveness of the medication.
The service is completely free and, since it's on the phone, remarkably accessible for those who cant get in-person counseling (such as those caring for small children or with health problems). "The good news for any smoker in America who wants to quit is that we now have a universal access number to help anyone, anywhere quit, " says Dr. Fiore. "And that is an enormous advance."
The quit-line approach varies from state-to-state; in California, for instance, quit-line counselors offer a 30- to 40-minute counseling session that covers health issues, strategies to deal with withdrawal, and help setting a quit date. The counselor will call back on your quit date and several times again after that. You can find details on the quit line in your state on the Web site of the
North American Quitline Consortium
. The National Cancer Institute also offers a confidential online text chat called
LiveHelp
.