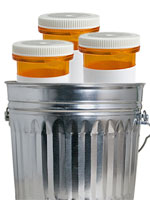 (ISTOCKPHOTO/HEALTH)
If you are currently taking
antidepressants
but want to stop, you're in good company.
Medication
to treat
depression
and anxiety is prescribed to more than 20 million Americans. According to the Centers for Disease Control and Prevention, in 2004 one in 10 adult women and one in 20 men were taking antidepressants—a number that tripled over the previous decade. Yet 54% of patients on antidepressants stop following their prescription in the first six months of their treatment, according to a study of more than 100,000 patients published in a 2005 issue of
Current Medical Research and Opinion
.
Most of those who
discontinue or switch antidepressants
early on do so because of side effects, according to a 2002
Annals of Pharmacotherapy
study. Fatigue or drowsiness was the most common complaint (10%), followed by anxiety, headache, and nausea (5% each). Psychiatrist Matthew S. Keene, MD, executive director of Arizona's Scottsdale Center for the Advancement of Neuroscience and the leader of the
CMRO
study, says other common reasons people stop include an improvement in mood, a feeling the meds aren't helping, or concerns about becoming dependent.
More about antidepressants
After taking Zoloft for seven years, Sarah Pavsner, 38, a visual artist and teacher in Los Angeles, feared liver damage. (Dr. Keene says the risk of this from SSRIs is very low. "It's higher with Tylenol.") But even more than that, Pavsner was concerned about becoming dependent on Zoloft to function. "I felt it was merely suppressing my feelings of depression," she says, "instead of helping me to find ways to deal with them."