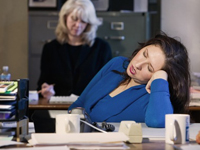 (SCOTT GRIESSEL/FOTOLIA)
Holding a job while dealing with a sleep disorder can be a challenge: You may struggle with waking up on time each day or staying alert all afternoon, or simply focusing on the details needed to complete your work.
If you're lucky, your higher-ups will be understanding and accommodating if you need an extra break or a pillow at your desk, but many employers aren't that flexible. For that reason, it's important to know your legal rights.
What "disability" means
If you meet the eligibility requirements, your disorder may be covered under the Americans With Disabilities Act of 1990. According to the statute, a person is considered disabled if he has a physical or mental impairment that substantially limits one or more major life activities, a record of such an impairment, or is regarded as having such an impairment.
In other words, if your sleep disorder impacts your ability to work, your employer may be required to provide reasonable accommodations—unless you simply cant do the job you were hired to do or your condition endangers the safety of others. (If you are a bus driver whose insomnia leaves you too tired to drive, for example, you may not have much recourse.)
So what are some possible accommodations for sleep disorders? The
Job Accommodation Network
, a service of the U.S. Department of Labor, offers several suggestions, depending on whether your problem is sleepiness, lack of concentration, attendance, or memory difficulties. They include:
Longer breaks or shorter, more frequent breaks
Changes in shift to a time when youre more alert
Natural sunlight or full-spectrum lighting at your workspace
Flexible hours
Backup coverage for breaks
Written, as well verbal, directions