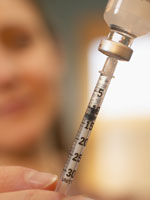 (GETTY IMAGES)
If you just found out you had
type 2 diabetes
, your first reaction might be "Oh no, not
insulin
!"
When Donna Rivers, 57, of Seattle, left her doctor's office with a diagnosis of type 2 diabetes, she had only one thing on her mind: Needles. Rivers was in such shock, she could barely think of anything else.
She had visited her doctor for a routine checkup in 2005, and learned that her
blood sugar
was 330 mg/dl—much higher than the normal limit for people without diabetes, which is 70-99 mg/dl after an overnight fast and 70-145 mg/dl after meals.
"I am very needle-phobic, and I never wanted to be on insulin. That was a very scary thing for me," she says.
Most type 2 diabetics don't use insulin
However, people with type 2 diabetes usually produce some of their own insulin, at least at the point of diagnosis. It's insulin resistance that's the problem. Insulin normally ferries glucose from the bloodstream into muscles. When the body loses sensitivity to insulin, it can't transport glucose out of the blood as efficiently, and blood-sugar levels rise.
In contrast, it's most often people with
type 1 diabetes
—a less common autoimmune disease that is usually diagnosed in childhood—who need insulin shots to survive.
Therefore, a
healthy diet
(which will help lower blood sugar) and
exercise
(which lowers insulin resistance) are the "drugs" of choice for many people with type 2 diabetes. In fact, 15% of adults with type 2 diabetes don't take any
medication
; 57 percent take oral medications alone; 16 percent take insulin only; and 12 percent take both insulin and oral medications.