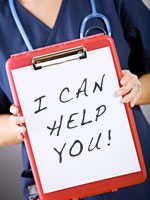 (HEALTH/SEAN LOCKE/ISTOCKPHOTO)
Like many aspects of type 2 diabetes, it may take some trial and error before you find the right doctor. Primary care doctors, such as family physicians and internists, treat most people with type 2 diabetes.
But even if you like your primary care doctor, he or she may not be the right person to manage type 2 diabetes.
You might be happier with someone else, or with an endocrinologist, a specialist in hormone-related diseases such as diabetes.
In general, family physicians are trained in all areas of medicine and treat adults and children. Internists specialize in internal medicine and only treat adults. Internists may or may not have in-depth training in diabetes (they can choose to do one to three additional years of training in one of 13 sub-specialties, such as endocrinology or cardiology).
Endocrinologist

More about finding the right doctor
Your primary care doctor may be a great fit—or not
Anil Verma, a 38-year-old Seattle-area resident, was diagnosed with type 2 diabetes in 2005. He had been seeing one doctor in a large practice, but wasn't that happy with his care.
Verma asked four nurses in the practice who they would recommend, and they all suggested the same doctor, who was in the same practice as his current one. So he switched.
"With diabetes, if you don't have a good doctor, it just becomes a pain. This guy's not a specialist in diabetes—he's a primary care guy, but he seems to have a lot of experience with diabetic folks and really keeps up-to-date. And he works well with me," Verma says.
The software developer likes to keep detailed logs of his blood sugar readings, and the doctor spends plenty of time reviewing them at their quarterly visits. He also heeds Verma's well-researched requests on how he'd like to manage his diabetes. And he has an online system to send his patients' test results to them.
"It's the small things that make life a little easier," Verma says.