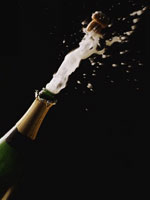 (DON MASON/VEER)
There is no "magic bullet" to instantly remedy premature ejaculation (PE) because its causes are not entirely understood. The problem doesn't have to get in the way of a healthy sex life, however, because there is a range of treatment options to discuss with your doctor or sex therapist.
1. The squeeze
One physical strategy for delaying climax involves squeezing the shaft of the penis right before ejaculation. "It creates a mild discomfort and keeps the event from happening," says Irwin Goldstein, MD, director of San Diego Sexual Medicine and the editor in chief of
The Journal of Sexual Medicine.
Not all doctors agree. The squeeze technique is not recommended by Ira Sharlip, MD, spokesman for the American Urological Association and clinical professor of urology at University of California at San Francisco, because he feels it may be difficult to perform properly during sex.
2. Mental distraction
Some people find mental distraction helpful for delaying things. The idea is to think of something completely unrelated to your partner—and distinctly nonsexual. Some guys imagine they are at a football game or do math problems in their heads.