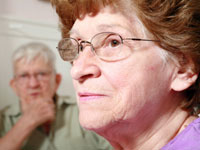 (ISTOCKPHOTO)
For many
chronic pain
patients, their spouse can do a tremendous amount to help, but the patient, in the end, is isolated with his or her pain. The burden of living with it and helping with it can put an enormous strain on even the happiest marriage.
Jan, 45, of Boulder, Colo., recognizes that her chronic back pain has been very hard on her marriage.
"People get divorced over this," says Jan, who is still happily married. "My husband doesn't want to deal with this, and he's the nicest guy in history. But no one can feel your pain."
How People in Pain Can Revive Their Sex Lives

Learn how to lessen pain and increase intimacy
Read more
More about coping with chronic pain
She understands the burden that pain can put on a spouse.
"I'm not the kind of person that has lunch and pours out my sorrows on friends. I don't want to talk about it. So who gets to hear it?" says Jan. "My spouse. Maybe he gets more than his fair share."
Migraine sufferer Amanda, 39, of Manchester, N.H., is also aware of the impact on her partner. "I'm sure my husband's tired of hearing it," she says. "He's really good about helping me through it: 'What can I do for you?' But it's straining on any relationship."
Educate your spouse
"It's a major concern," agrees Todd Sitzman, MD, a past president of the American Academy of Pain Medicine. "I see it on a weekly basis. There's isolation, not wanting to go out,
not wanting to participate in marital relations
, and the marriage suffers."