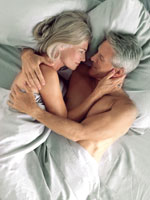 (LARRY WILLIAMS/CORBIS/VEER)
One of the most difficult things about
chronic pain
is the profound impact that it can have on your sex life. But if you think you are the only chronic pain sufferer with intimacy issues, think again. "It's a silent epidemic," says Clifford Gevirtz, MD, medical director of Somnia Pain Management in New Rochelle, N.Y. "People are embarrassed to talk about it, but they are suffering."
But experts say that many are suffering needlessly: "There is a lot of help available," he says. "They just have to have the courage to ask."
Finding the root cause of sexual dysfunction
Chronic pain affects sexuality on several levels. At the most basic level, pain itself can inhibit sexual activity. Kerrie Smyres, a 31-year-old writer in Seattle who
blogs
about her daily headaches, says that the pain in her head often hurts too much for sex. Despite the cliche, it's true that headaches can be a major obstacle to intimacy. In a small 2007 survey by the National Headache Foundation, 69% of respondents said they had avoided sex because of a headache.
Keeping Your Marriage Healthy When You're in Pain

Patients share their struggles and successes with staying close
Read more
More about coping with chronic pain
The last thing a chronic pain sufferer needs is more discomfort. But when sex increases pain and patients avoid sex, a vicious cycle can start. "If avoidance continues, a major fear becomes associated with a sexual activity," says Todd Sitzman, MD, a past president of the American Academy of Pain Medicine. "That lack of intimacy can have detrimental effects on relationships."
How emotions play a role
The alchemy of pain, sex, and relationships is complex. "Typically what I see is a combination of factors," says Geralyn Datz, PhD, a pain psychologist and behavioral medicine specialist in Hattiesburg, Miss. "The person has chronic pain, and intercourse may be physically uncomfortable." But she says often a person can feel emotionally unwilling or just feel bad about themselves.
Self-esteem can also plummet, says Datz: "You can imagine how someone who used to be the head of the household and is now relegated to the couch isn't feeling interested in intercourse or intimacy—their self esteem is dramatically affected."
Anticipation or fear of pain is another common problem: For Smyres, orgasms can sometimes trigger migraines, which "doesn't give me a whole lot of incentive," she says.