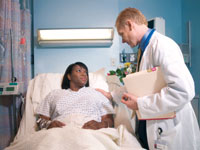 (THOMAS NORTHCUT/GETTY IMAGES)
Bypass surgery isn't as traumatic and disabling as it used to be. In some cases doctors can perform a bypass while the heart is still beating, an advance that can shorten recovery time and reduce the risk of complications.
Relatively young patients with simple blockages and few health problems tend to have the smoothest operations and quickest recoveries.
Shorter hospital stays
If all goes especially well, some patients may be allowed to go home in as little as three days post-op. A 2007 study found that patients who get released early after bypass surgery have no more complications than those who stay longer.
Sawed in Half

In addition to a quicker return to home-cooking, patients who get out early have another advantage: They end up requiring about $1,800 less in medical care in the 60 days after leaving the hospital.
Still, it usually takes a full five days to go home, as John Maiorana, of Virginia Beach, Va., discovered when he had quadruple bypass surgery 10 years ago at age 55.
"I sat on the recliner for a couple of days after that, feeling very vulnerable" says Maiorana. "I was walking on eggs. But after a while, I decided my heart was repaired."