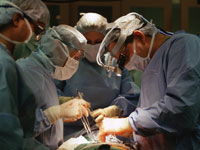 (OWEN FRANKEN/CORBIS)
In 2005 doctors performed about 280,000
bypass surgeries
to route new vessels around blocked arteries and 800,000 angioplasties to open blocked arteries. Another 100,000 Americans had heart valves surgically repaired or replaced.
If your doctor says you need an intervention to fix or protect your heart, you'll have some pressing questions.
• What type of procedure is the best choice for you?
• What are the risks?
• What kinds of improvements can you expect?
Can surgery extend your life?
While heart surgery can't cure heart disease, it should relieve chest pain and help you live longer.
Alive and Amazed

Patients with serious
coronary artery disease
who undergo bypass surgery are nearly 50% more likely to be alive in five years than patients who receive drug treatment alone.
Angioplasties
can also relieve chest pain, but the results are not as lasting. More than 40% of the patients who receive angioplasty need bypass surgery within a decade.
Long-term survival following the two procedures is just about the same, according to a recent overview of both by researchers at Stanford University School of Medicine. Results for almost 10,000 patients from 23 clinical trials in the United States and Europe showed 98.2% survival for bypass surgery and 98.9% for angioplasty.