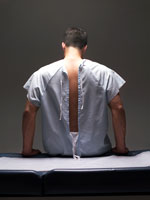 (TOLEDANO/GETTY IMAGES)
At 22, Josh (not his real name) was diagnosed with anal warts caused by HPV, the same virus responsible for genital warts. He had just come out of the closet about being gay and was feeling relieved. Then he realized he had contracted a sexually transmitted disease (STD)—from his very first boyfriend.
"The symptoms showed up about three months after we broke up," he remembers. "I looked in the mirror and I saw all these bumps. It wasn't painful, but I felt betrayed by my ex-boyfriend."
Josh also felt shame: "I knew that the virus was an STD that you couldn't get rid of. And I felt dirty, like I was being punished for being gay.... I thought maybe it would be a scarlet letter for the rest of my life. As it turned out, my ex-boyfriend didn't even know he had the virus."
Warts are hard to get rid of
"The first person I went to was a GP, and he burned them off using liquid nitrogen. I almost enjoyed the pain because I knew we were doing something," says Josh. But the warts came back, and there were more that were internal. The GP referred Josh to a dermatologist, who in turn referred him to a genital wart specialist at a nearby university hospital.