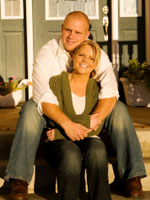 (ISTOCKPHOTO)
Congratulations! You've made it through tests and treatments that sometimes seem as brutal as the disease itself. Finally, it's here: the light at the end of the tunnel. Except maybe it's not as bright as you expected.
"Patients say they feel like they've been dropped into a void," says Julia Rowland, PhD, director of the National Cancer Institute's Office of Cancer Survivorship. "People don't realize that transitions are stressful." Even some doctors' recognition of the difficulty of cancer recovery is still evolving. "Some people get this blip up of distress, and it takes them by surprise," says Rowland. "'Why am I anxious and nervous?' they ask. 'I should feel good about this.' "
But it's hard to feel good when you're...
...exhausted:
Many patients enter recovery still reeling from the aftereffects of some treatments. They may suffer fatigue, pain, "chemo brain" (the memory and concentration problems reported by some patients), or have trouble adjusting to a new body image. For the physical side of things, Rowland looks to the date of your first symptom—whether that was when you first felt a lump or were told you had an abnormal mammogram—to roughly estimate your recovery time. If it took nine months from that first sign through the completion of treatment, your recovery may take at least that long.