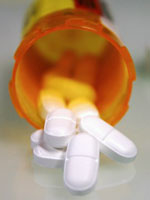 (123RF)
Lipitor (atorvastatin), Zocor (simvastatin), Crestor (rosuvastatin), and other statins can dramatically lower levels of artery-clogging
cholesterol
in the blood, an ability that makes them hugely popular in our cholesterol-rich country. Heart researchers have estimated that these drugs could save 1,000 lives each week for every 10 million high-risk heart disease patients who take them.
One study of nearly 20,000 patients found that, after a
heart attack
, taking a statin can prevent the risk of death within one year by 25%. Among patients who don't even have cardiovascular disease, taking a statin preventively can reduce the risk of a major coronary event like heart attack by about 30%.
When Denise Foley, 57, of Philadelphia, went through menopause, her cholesterol shot up from 160 to 240. Her doctor warned her that that number, along with her family history of heart disease, put her at risk for a heart attack or stroke. But she didn't want to take heart medication. "I really wanted to lower my risk without drugs," she says. "I lost 30 pounds, I
exercised
, and I went on a vegetarian diet. But I just couldn't budge it."
Seven years ago she was prescribed Lipitor to control her high cholesterol. Soon after, she started feeling
depressed
for no reason. "I went to a party filled with good friends, and I sat in the corner and thought everyone hated me," she says. Turns out depression can be a side effect of Lipitor. Her doctor switched her to Zocor, which she now takes successfully. Her cholesterol is in a safe range. "I worry about the long-term effects of these drugs," she says. "But I also know that without medication, I might be dead from a heart attack or
stroke
."
As of December 2006, an estimated 13.1 million Americans had a prescription for a statin, an increase of 500,000 patients in just over a year. In 2004, Americans spent more than $9 billion on Lipitor alone, more than for any other prescription drug. The arrival in 2006 of two inexpensive generic statins—pravastatin and simvastatin—will make statins available to even more patients.