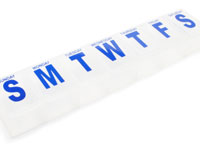 (L.L. YIAP/ISTOCKPHOTO)
The American Heart Association recently announced the biggest threat to heart patients—and it's not cheese fries or stress. It is "patients' failure to take prescription medicines correctly."
Statistics suggest that if a doctor prescribes a drug to 100 patients, 12% of them won't fill the prescription, another 12% will fill it but not take a single pill, and 22% will stop taking the drug before the prescription runs out.
Skipped meds, needless heart attacks
When it comes to medications for the heart, skipping doses can be costly. It's estimated that thousands of Americans have avoidable heart attacks each year because they neglect to consistently take the cholesterol-lowering statins prescribed by their doctors. A 2007
study
of heart patients suggested that skimping on prescribed medications can double the risk of heart attack, stroke, or other cardiovascular events.
Chris Spelius, 56, of Sun Valley, Utah, is one of those whose stubbornness could have turned him into a statistic. Although his cholesterol was soaring into the 400 range, the former Olympic kayaker was convinced that a vegetarian diet and an active lifestyle would bring it into a safe range. "I've never taken drugs, legal or illegal, and I didn't want to start now," he says.
Finally, his doctor, Eliot Brinton, MD, a preventive cardiologist at the University of Utah School of Medicine, talked him into it. "My job is to badger the patient on a continual basis," he says. "You can have the world's most fit athlete, and they can have high cholesterol, and you can have a couch potato who has low cholesterol." Spelius was obviously in the former category.