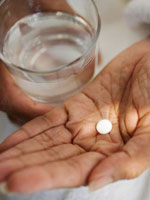 (TOM GRILL/CORBIS/HEALTH)
Whether you're trying to recover from a massive
heart attack
or hoping to mitigate your
risk factors
, the right prescription heart drug can put your goals within reach. In recent years doctors have hit upon effective combinations for the most common heart conditions. The future of heart attack and heart disease patients depends in part on the contents of their medicine cabinet, says Sharonne Hayes, MD, director of the Mayo Clinic's Women's Heart Clinic. "Heart patients who go home with
aspirin
, a
statin
, and a
beta-blocker
have fewer second heart attacks and live longer than those who don't," she says.
When lifestyle changes aren't enough
John Maiorana, a 65-year-old retired Navy chaplain living in Virginia Beach, Va., has been taking Lipitor every day since his quadruple
bypass surgery
10 years ago. His doctor runs a simple blood test every year to check for signs of liver damage—a standard procedure for anyone taking a statin—but the drug has never caused Maiorana any trouble.
Heart Drugs

Over the years the combination of
Lipitor
, regular exercise, and a low-fat diet has brought his total cholesterol down from the high 240s to the low 150s and allowed him to enjoy his retirement. "I walk, I jog, and I even eat pizza with cheese on it," he says. "I just don't overdo it."