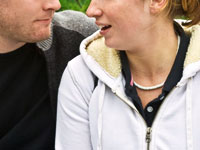 (123RF)
"I caught chlamydia from unprotected sex," recalls Maggie (not her real name), 26, of Santa Cruz, Calif. "It was during that horrible postcollege time where everyone gets depressed about what to do with their lives—and I coped with alcohol, drugs, and frivolous sex."
She found out about the chlamydia when she went to a Planned Parenthood clinic to get treated for a yeast infection. She chose the clinic for its low cost, since she was uninsured. "I ended up staying for the whole day while they gave me my annual physical and tested me for virtually anything I could have contracted."
It was impossible to tell how long she'd had the chlamydia. "I didn't know I even had an STD," Maggie says. "That might be the scariest part—I could have spread it to someone without realizing it."
Since it was caught early, Maggie's chlamydia never caused any problems. "I felt lucky and grateful that I'd been the recipient of such an easy STD," she says. "I was a little angry at whomever had given it to me, and a little ashamed that I might have passed it on."