(MARK YANIS)
Being
overweight or obese
is one of the main risk factors for
obstructive sleep apnea
, but the connection doesn't stop there. Most sleep apnea patients carry at least a few extra pounds, and doctors stress diet and exercise as part of their treatment, but getting back to a healthy weight can be difficult.
Gaining weight can bring on sleep apnea …
After the birth of his daughter and a hectic year of studying for the California bar exam, Mark Yanis let exercise and nutrition fall by the wayside. Soon he had gained about 20 pounds,
always felt run-down
, and was having trouble sleeping through the night.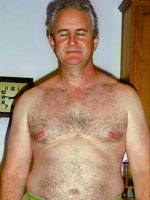 "My body was jolting me awake and I was starving for air," says Yanis, 49, of Huntington Beach, Calif. He snored so loudly that his wife often slept in another room. He had trouble moving around and catching his breath, and was tired all the time.
Eventually Yanis was diagnosed with obstructive sleep apnea. Doctors told him that his high tongue and narrow airways were part of the problem and, at 5'10" and 220 pounds, that the extra weight he was carrying brought it to the surface.
"The physical presence of extra tissue and fat in the neck compresses the area related to sleep apnea," explains Charles Kimmelman, MD, director of the New York City Ear, Nose and Throat Center (which specializes in sleep apnea treatments). "The airway becomes more narrow, while the organs and tissues swell—making for very little room for the traveling oxygen."