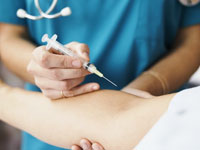 (VEER)
Doctors have their own opinions about who should be tested for which sexually transmitted disease (STD), but it's really up to you. When official recommendations are made, they're based on research statistics about sexual activity and infection rates. But experts say the best strategy is for individuals to educate themselves and then ask for tests based on their own sexual history and level of concern.
That said, here are some basic STD testing guidelines.
If you're sexually active
The federal Centers for Disease Control and Prevention (CDC) recommends HIV tests for all sexually active adults and pregnant women. Urine tests are available now for chlamydia and gonorrhea, making testing easier than ever before. Some doctors recommend regular testing for both infections if you fall into one of a few high-risk groups, but anyone can request these tests.
If you're under 24
According to a 2006 CDC surveillance report, young people ages 15 to 24 represent just 25% of the sexually active population but they also represented almost 50% of new STD cases that year. "Young people ought to get tested once a year for HIV, syphilis, chlamydia, and gonorrhea," says H. Hunter Handsfield, MD, a clinical professor of medicine at the University of Washington and a nationally recognized STD expert who has helped develop HIV testing guidelines for the CDC.
However, he adds that depending upon a person's sexual behavior, testing might be as frequent as once every few months, or as rare as once every two years in the case of a monogamous relationship.
Chlamydia is a crucial test for young women (though you probably have to ask for it) since it's so common and so destructive. "That's the single STD that is most likely to be present in someone who doesn't show symptoms—and that can do a lot of damage," says Dr. Handsfield.