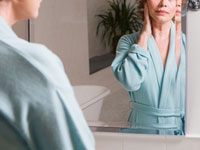 (IMAGE SOURCE/FOTOLIA)
The effects of
breast cancer treatment
on your body and your psyche can do a number on your sex life, as these seven women can attest.
"It's not that I don't love you"
Johanna, 41, of Chesterfield, Mo., says, "I know there were times when [my husband] was frustrated with the lack of sex, but I tried to explain it to him, probably midway through treatment. We sat down and talked about it and I said, 'I feel really bad for you, but that's at the bottom of my to-do list and it's not that I don't love you.'"
She and her husband did keep the physical part of their relationship alive, though: "He would rub my back and rub my feet and touch me in other ways that would provide the intimacy, but we couldn't go down that path at that time." Several months after her treatment ended, she and her husband "were still dealing with issues; you can't just swing back into it. We talk about it and joke about it. At some point along this path I'll get back to normal."
More about sex and body image
"I had menopausal symptoms"
"When I was diagnosed and treated I was 45 and fertility wasn't an issue, but I was sexually active with my husband," says Angeleno Victoria Tashman, 49, founder of the breast cancer organization
Pink-Link
, who had chemo followed by tamoxifen. "I had menopausal symptoms from very little estrogen, though my hot flashes have gotten a lot better. The vaginal dryness, low libido, and skin dryness that are attached to estrogen [levels dropping]—I never had a clue about those. Now I take a small amount of estrogen replacement to help with the vaginal dryness."
"I was embarrassed by the way I looked"
"I still have a scar on my breast; [the breast] is shaped differently now because they took a big chunk out of it," says Marguerite Leishman, 53, of Reston, Va., who got engaged shortly after her diagnosis 16 years ago. "I was embarrassed by that; I didn't want to wear a bikini anymore and I felt uncomfortable taking my clothes off in front of my fiancé; I felt misshapen and that I looked weird. I started dressing in baggy clothes.
"Initially I tried to get rid of [my fiancé] because I felt sorry for myself. I said, 'You don't need to be stuck with a woman who has cancer,'" she remembers. "He said, thankfully, 'You're being ridiculous; we're going to get through this together.' So it only actually improved our relationship because I could tell this guy was worth keeping around."