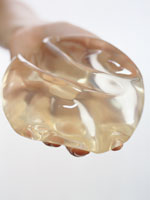 (AUSLOESER/ZEFA/CORBIS)
If you've had a mastectomy, your medical profile may make you a candidate for
reconstructive surgery
. There are several kinds, but the main choice is whether you want to live with the way your body looks and feels with just one breast or none at all or have doctors construct something artificial.
Some women are quite sure they want reconstruction
The decision to go ahead and have the
surgery
is a no-brainer for some women: It may be important—even essential—to your self-esteem to have two breasts and that they look as close as possible to what you were used to (or better).
"I knew that I wanted to do reconstruction; I just didn't know what kind," says Sharon O'Donnell, 51, of Hamilton Township, N.J., who finished her surgery in November 2007 and eventually decided to get tissue expanders and implants. "I've always been athletic, and I didn't like the idea of a TRAM flap [surgery]; I didn't want to lose musculature in my body."
Johanna, 41, of Chesterfield, Mo., was equally sure that she wanted to wake up from her mastectomy surgery already on the way to having her breast reconstructed. "I made sure my reconstruction was done before the third week in July [2007]," the one-year anniversary of Johanna's diagnosis with stage IIB invasive ductal carcinoma. "It helped to have the reconstruction start immediately. Psychologically, that helped me along the way."