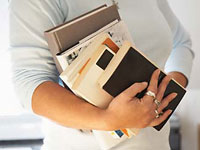 (RADIUS/MASTERFILE)
It's a vicious cycle for people with diabetes: Stress and depression associated with the complications of the disease can jeopardize health (stress can increase blood sugar and depressed people have a harder time taking care of themselves). But scary-sounding
diabetes complications
can understandably trigger fear and depression.
So what's the key to breaking the cycle? Knowledge. People with diabetes now have more tools at their disposal to prevent complications than ever before.
If anyone should be depressed about having type 2 diabetes, it's Sheri Gibson, a 50-year-old grant writer from Chicago. She was diagnosed with type 2 in 2005, a month after her brother Rick passed away from the disease.
Rick was an amputee, legally blind, on dialysis, and had a quadruple bypass before his death at age 48. Another brother, Douglas, also had type 2 and died at 36 during an angioplasty procedure to open up his clogged arteries. Her mother passed away in May, at the age of 74, from diabetes complications.
What's more, Gibson has two nephews with the disease, one of whom is not yet 30 years old but is legally blind and on dialysis. Her sister was recently diagnosed as well.