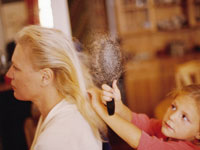 (OWEN FRANKEN/CORBIS)
Hair coming out in clumps, unrelenting fatigue, hot flashes, achy joints, tummy trouble—that's the short list of chemotherapy and radiation treatment side effects that breast cancer patients dread.
Some women are hit a lot harder by side effects than others (and may want to check out these home remedies and
complementary therapies
).
• Leslie Riddle, 50, who lives in New York City, says she suffered from "chemo brain"—her thinking and memory were somewhat impaired, a possible side effect of the drugs. "The first night I did chemo, when I left the hospital, I should've had someone come with me. I couldn't remember where the subway was," she says. "I thought, Oh, my God, where am I? It was just wacky, how my brain was in a fog."
• "Almost two weeks to the day after my first chemo treatment, I started losing my hair," says Melissa Graves, 40, of College Station, Tex. "I've now got horrid arthritis."
• Hendy Dayton, 48, of San Francisco says that after chemotherapy, "You feel like your body has been poisoned. You just want to cut yourself open and get it out. Losing my hair was the lowest point."
But for other women, fear of chemotherapy is worse than the experience itself.