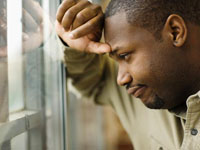 (RICK GOMEZ/CORBIS)
Stigma against the mentally ill is bad, and research suggests it is getting worse, says Patrick Corrigan, PsyD, professor of psychology at the Illinois Institute of Technology and director of the
Chicago Consortium for Stigma Research
. "Mental illness is still extremely stigmatized," he says, "thanks in part to television shows that portray this population as dangerous, in need of supervision, and/or wild and irresponsible. That is the public perception, despite evidence that they are no more dangerous than anyone else."
Stigma against the mentally ill comes from two other sources. There is self-stigma, in which a person assumes a "why try" attitude about life goals and tasks.
Research suggests that 40% to 75% of people never seek out
medication
and
therapy
.
Even more insidious is label avoidance, which often leads people to avoid treatment because they don't want to be grouped with the mentally ill.