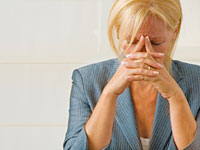 (ISTOCKPHOTO)
Like most people with depression and other mental illnesses, Keris Myrick, 46, had trouble at work. In one job, at a university, she asked her boss for a flexible schedule as she coped with a relapse. "My
depression
was like a tumbleweed, getting bigger and bigger," Myrick recalls. "Then I went into the hospital."
When she came back to work two weeks later, things were not going well. She was on a new drug that made her feel tired, and she didn't think she could work her morning hours. She contacted the
Office of Disability Employment Policy
in Washington, D.C., about her rights, which she broached in a letter to the university's HR department. But she wasn't able to arrive at a solution and eventually found a new job. "It was a nightmare," she says.
What are your legal rights?
Rights for people with mental disability can be a nightmare for lawyers, as well. "In cases that go to litigation, courts overwhelmingly side with the employers," says Deirdre Smith, the director of a legal aid clinic at the University of Maine. "Mental illness is an invisible disability so many places, but not at work, where the emphasis is on social interaction. There you have to be a team player who has good communication skills. Not having these skills is often a characteristic of mental illness."
It's a cruel irony that employment—so crucial for a person's self-esteem and ability to function—is also so difficult for people with mental health problems to secure. Heather Stuart, PhD, a professor of community health and epidemiology at Queen's University, in Kingston, Ontario, Canada, calls it double jeopardy.
"To be excluded from the workforce not only creates material deprivation but also erodes self-confidence, creates a sense of isolation and marginalization and is a key risk factor for mental disability," Stuart has written. "For people with a serious mental disorder, employment is an important stepping stone to recovery."
Under the Americans With Disabilities Act, private employers with 15 or more employees are required to provide "reasonable accomodations" for people with a disabling mental illness. However, there are
loopholes
in the law that you should be aware of.