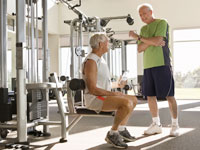 (AL BELLO/GETTY IMAGES)
Deb Kautz, 47, of Zumbro Falls, Minn., said she felt like "a wreck" after her
heart attack
. She was afraid to move, afraid that any exertion could set off another attack. This fear could have left her stuck to the couch, but she took another route. Within two weeks of her attack, she started attending the cardiac rehabilitation program at the Mayo Clinic in nearby Rochester.
Kautz started slowly walking on a treadmill. With a heart monitor on her chest and an exercise physiologist looking over her shoulder, she no longer worried about overstressing her heart. She could just focus on getting better.
It Was Either the Knife

Certified exercise specialist Anne Wolter has been working with patients like Kautz at the Mayo Clinic for 20 years. "Most patients aren't thrilled about starting rehab," she says. But after attending two to four sessions a week for three months—the time period generally covered by insurance—their attitude changes completely. "The best thing about cardiac rehab is when patients start gaining strength and feeling better," Wolter says. "A lot of them leave saying they're in their best shape in years."