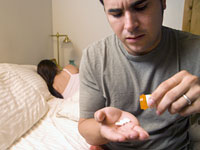 Corbis
If your sleep problem has become serious enough that you've decided to see a doctor, a prescription sleeping pill is likely one option he or she will suggest. Medication can be a great help in getting you over a temporary sleep issue and back on track with your regular schedule, but you may still have some reservations about taking it.
Can you get hooked?
All drugs come with the possibility of side effects, and many people worry about sleep medication's potential for abuse and long-term consequences. You may worry about dependence—becoming physically reliant on the pills and not being able to sleep without them.
More about sleep medications
But the risks among those who take hypnotic medications for insomnia (as opposed to using them to appease anxiety or to come down off illegal drugs) are extremely low: In a 1996 University of Minnesota study, researchers followed 170 people with serious insomnia or other sleep disorders who took the benzodiazepine drug clonazepam (brand name Klonopin) for 12 years. Only four people were reported to have misused their medications.
"I've been doing this thirty-odd years," says Mark W. Mahowald, MD, a sleep specialist at the University of Minnesota, "and the number of patients I've seen who've gotten in trouble with these drugs is not even a handful."