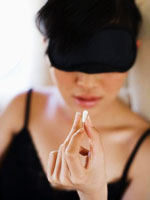 (CHRISTOPH WILHELM/CORBIS)
Prescription medication can get you through a few sleepless nights and back on track, but experts agree: They're not the best choice for the long-term.
But if you're getting the best sleep you've had in months while using a nightly prescription, why (and when, and how) should you stop? The answer to these questions is different for everyone—and something you should decide with the help of your doctor.
Short-term vs. long-term
Short-term insomnia is a sudden, brief inability to sleep well, often brought on by troublesome events such as an impending divorce or a sudden medical ailment. In these cases, a short regimen of sleeping pills can help you get some good, quality rest—and work on better sleep habits—to avoid the process by which acute insomnia can become chronic.
"Pills can work wonders during a short period of stress," says Michael J. Sateia, MD, chief of sleep medicine at Dartmouth-Hitchcock Medical Center in Lebanon, N.H. "Doctors need to manage for the short-term, to prevent patients from falling into the cycle. It's an ounce of prevention versus a pound of cure."
If you're still taking pills after a month and having trouble falling asleep without them, it's time to talk to your doctor again. (You'll have to anyway, to get a new prescription, so that's the time to consider other options.)