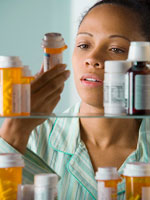 (MASTERFILE)
A few decades ago your only
prescription options
for a good night's sleep were benzodiazepine hypnotics like Xanax or Halcion. These pills are still widely prescribed, but patients today have more choices: Similar medications called nonbenzodiazepines and an even newer drug that stands alone in its own class.
When you just need some shut-eye, though, having multiple options can make things even more complicated and confusing. Here are some quick descriptions to help you sort through the main differences and similarities.
Benzodiazepines
Include older drugs such as Valium, Klonopin, Xanax, and Halcion
Induce sleep by slowing down the central nervous system
Are often used to treat anxiety and panic disorders as well as insomnia
Are approved for short-term use (a few weeks or less) by adults, though many doctors prescribe them for longer
Cost less than the newer medications—in some cases, about 75 cents a pill—because they are available as generics.
May make symptoms of sleep apnea and other breathing disorders worse
Have a low risk of abuse or dependence (although slightly higher than other sleep medications)
Can cause side effects such as: residual daytime sleepiness, cognitive impairment, memory loss, falling and motor impairment (especially among older people), and the return, or "rebound," of insomnia after abruptly discontinuing a drug
In a 2006 government-sponsored analysis, benzodiazepines caused patients to fall asleep 10 minutes faster and sleep 32 minutes longer than those who took placebo pills.